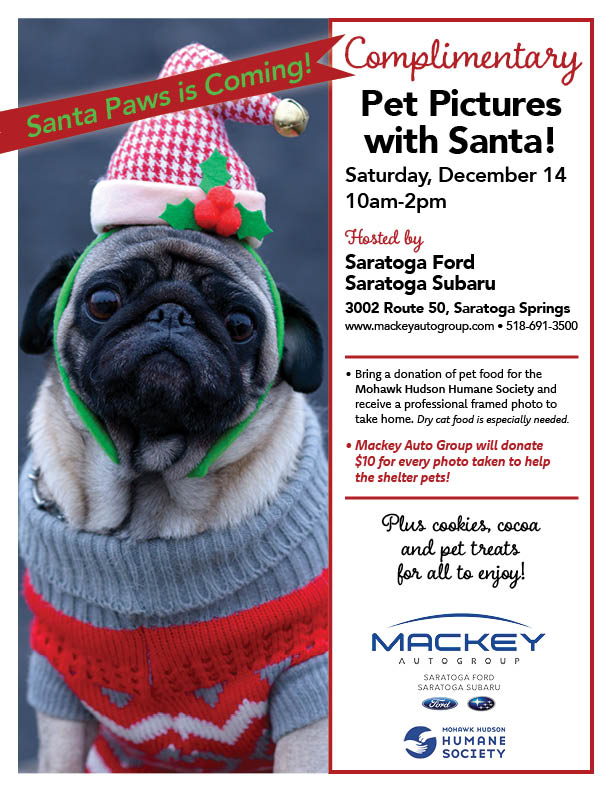 On Saturday, December, 14 between 10:00 am and 2:00 pm, Mackey Auto Group will sponsor Pet Photos with Santa to benefit the Mohawk Hudson Humane Society at Saratoga Ford and Saratoga Subaru in Saratoga Springs.
Pet owners will receive a complimentary professional framed photo to take home. Participants are asked to bring a donation of pet food for the Mohawk Hudson Humane Society's pet food pantry. Any brand is acceptable and dry cat food is especially needed. In addition, Mackey Auto Group will donate $10 for every photo taken to help the shelter pets. Refreshments and pet treats will be provided. Please bring pets on leashes or in carriers.
In addition to its Menands Animal Care Center, the Society has a low-cost Spay/Neuter and Wellness Clinic located in Saratoga. Pet Food Pantries for those needing help caring for their pets are located at both locations.
According to Humane Society President and CEO Todd Cramer, "One of our primary goals is to keep pets with the families who love them. By assisting with low-cost wellness services and food, we can prevent pets from becoming homeless. Last year over 45,000 pet meals were provided by our pantries. We are most grateful for Mackey Auto Group's generous support."
"As a business that loves pets, Mackey Auto Group is proud to partner with the Mohawk Hudson Humane Society in hosting the 'Santa Paws' event at Saratoga Subaru and Saratoga Ford," said Mackey Auto Group CEO Chris Mackey. "The Mohawk Hudson Humane Society does amazing work locally to ensure every dog and cat finds a forever home, Saratoga Subaru and Saratoga Ford are excited to support their important mission."
For further information, please contact Mohawk Hudson Humane Society at 518-434-8128, ext. 206.